- Character Information -
Name:
Cael Ambrosios
Titles, if any:
Cael Ambrosios, Lord of Iron Shore
Age and Birthdate:
(36) Third day of the Sixth month in the year 294
Hometown/Area of Origin:
Iron Shore/Vassal town of Blacktide/Kingsreach
Noble House, Affiliations:
House Ambrosios
Position at Court:
none
Appearance: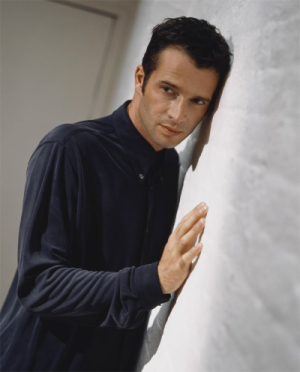 Height: 6'1"
Hair: Brown
Eyes: Brown
PB:
James Purefoy
Personality:
There are few things more important to Cael Ambrosios than his family. The eldest of his siblings, he was born a twin and therefore was never alone in his childhood. Though he is inarguably close with Taran, though, it cannot be said that either of them exactly get along. You can love somebody, know them well, and still not be compatible with them by any means. It was always a headache for their parents having to step in to intervene between the private war that raged between them, one that, in a way, still exists today. But there is no malice there. They poke and pick at one another because that is what they have always done. And the fact remains that he still trusts his twin more than he will ever trust anybody else, even if Taran knows best how to hurt him and often does. It's not like he's exactly innocent himself. Aside from his twin, though, he is extremely close with most of his family... Some cousins he doesn't exactly count because... well... they annoy him. And Connor was always a bit of a pain in the ass to him to up until he went and had some children. Regardless of how he feels about them, though, so long as the members of his family represent their house well, he will do whatever he can to serve and protect them. He would not exactly say that he loves all of them... He's not sure he knows how to do that. But he does at least love his siblings and his daughter. He's fond of his nieces and nephew, but he wouldn't go so far as to call it love.
Prepared from an early age to take the place of his father, he is an extremely business minded individual. He has a very strong work ethic and is a bit unforgiving of people who do not posses one. While not necessarily cruel to his workers, he is not known for his leniency either. He has very high expectations of those he employs, and if they should fall short, he feels nothing for them when they force him to release them from their contracts. Because he is quite aware that he is not the best when it comes to dealing with people, he often defers to his business advisers to do that for him so that he can focus more on the numbers and inventory side of things. He is happiest when he is looking over business reports, and while he might complain of the work that he has to do, he really lives for it.
He is extremely arrogant, often attributing any success in the business to his sole involvement. However, when something goes amiss, he is quick to start distributing the blame, trying to find the root of it. Of late, due to the war, he's been in a very tense disposition considering that for the first time since the founding of Iron Shore, business had declined. Now that it's on an upswing, he's a bit more pleasant to be around... But only a bit. He truly does fear that the legacy that Armand Ambrosios built will crumble because of him, and sometimes the stress gets to be overwhelming. Though he thinks he's rather good about keeping this a secret, it's easy to tell by how quick he loses his temper just how stressed he really is. It has gotten to be something that he can manage slightly better over the last couple of years, but it's still a struggle and he does have his bad days. Which is when he normally turns to the bottle.
Not a warrior by any means, he can still hold his own in a fight or a battle... As evidenced by the time served in the Northern War. He is not the sort that you would find competing in a tournament however as he's not himself a knight. But, he is good with a sword but he's far from the fighter of his family. He is more for throwing fists than knives and has been in his fair share of brawls, but if he can help it, he'll avoid a duel at all costs. In the battles, his skill improved somewhat, enough to keep him alive... but only just. He almost lost his life in Ongol Valley, having been unable to stop a charging Zakman from taking a swipe at his arm with a blade, and most surely would have perished if his cousin, Jacob, had not been there to protect him. Unfortunately, he too suffered wounds from the same Zakman, and died a few days after the battle. Cael was stitched up and recovered, but he does still carry the guilt of his cousin's death with him.
The relations between House Ambrosios and House Wolfe has always been tense at best, and Isaiah Ambrosios was sure to pass that tradition down to his children. Though they would never do anything outwardly treasonous, they are not on the friendliest of terms. Still, they pay their taxes, come when they are called, and publically treat the Wolfes with the respect that they are owed by right of their title. This does not mean that on a personal level, Cael has buried the age old rivalry, and while he can respect the position Lord Wolfe and his brothers have over him, he's not exactly the most magnanimous or kind when having to deal with them.
More than anything, his aim is to bring his family name glory. He desperately wishes to find favor with the new king, and in a way, feels that he is more deserving of praise and of the seat to Blacktide than any member of House Wolfe.
Timeline:
Timeline:
294 - Cael Ambrosios and Taran Ambrosios are born
297 - Connor Ambrosios is born
300 - Miranda Ambrosios is born
301 - Cael and Taran begin training with Wayne Wolfe.
303 - Elizabeth Ambrosios is born
304 - Cael is injured during a hunt and his leg is crushed beneath the hoof of a horse. He is left unable to walk for the better part of a year. Bitter over this, he refuses to entertain the thought of continuing his training.
312 - Taran is knighted after a good showing in a tournament in which he'd won at swords.
313 - Cael marries Madeleine Veracora
316 - Isabella Ambrosios is born. Madeleine dies a few days later.
319 - Miranda Ambrosios becomes ill. Does not recover and dies later that year. Waylon Wolfe dies.
320 - Cael begins taking a more active role in managing the business with his father.
322 - Elizabeth marries Prince Rollant Fairchild.
325 - Leaves with brothers to go fight in the Northern Wars.
326 - Is injured during the Battle of Ongol Valley. Cousin, Jacob, dies protecting him.
328 - After the battle of Kolkon-Uul, his father recalls him and his brothers to Iron Shore due to the riots in Blacktide. Despite some initial tension with Lord Wolfe, House Ambrosios' sons would ride into Blacktide to help Wolfe's king put down the rioting peasants. Elizabeth's husband, Prince Rollant, dies.
329 - Isaiah Ambrosios dies. Cael becomes Lord of Iron Shore.
330 - Cael Ambrosios remains in Iron Shore for the majority of the year, though he does frequently visit the court at Blacktide in an effort to improve relations between House Ambrosios and House Wolfe. Cael becomes ill at the end of the year, but it is minor and he recovers quickly.
331 - Cael manages his holding and sends taxes to Vellesca. Prepares to leave for Blacktide ahead of the king's progress.
Retinue:
adviser to the mine - George Paulson
adviser to the forge - Abraham Nolan
- Player Information -
Name: Cee