Character Information -
Name:
Elinor Vellfyre
Titles, if any:
Lady Elinor of House Vellfyre
Age and Birthdate:
21 years, 10th Month, 28th day, year 309
Hometown/Area of Origin:
Tal Volorro, Kingsreach
Noble House, Affiliations:
Vellfyre - swore allegiance in the cradle
Position at Court:
Lady of the Chamber to Princess Valencia, soon-to-be Lady Vayth
Appearance: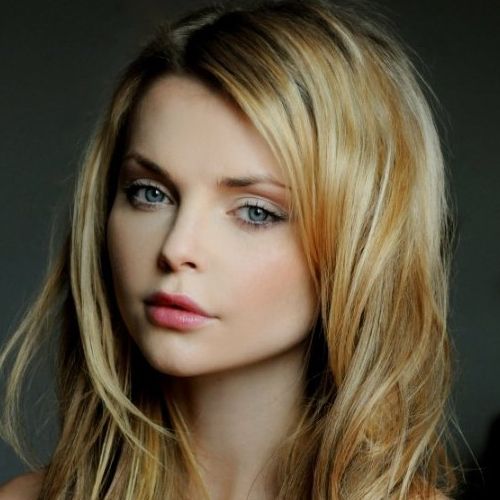 Standing a few inches taller than most of her female Vellfyre kin, Elinor is slender and comely in form. Her clothing is elegant, fashionable without being overly provocative or gaudy. She takes pride in her appearance, adoring her hair to suit the occasion, and accessorizing with jewelry. The one constant item is a handsome strand of prayer beads, with a thick medallion emblazoned with an owl.
Hair Color: Blond with Reddish highlights
Eye Color: Pale Blue almost Gray
Height: 5'8"
Birthmark: A small pink and red birthmark on the front of her left thigh, the shape merited her milkname 'Rosebud'. Around the age of 12, Elinor became increasingly embarrassed about this fact. She then altered the family history by stating her milkname was for the shape of her pouting baby lips.
Play-by:
Izabella Miko
Personality:
It was safe to say there was no one that desired to walk the path that Elinor hoped for especially if one were a member of the King's court. She desired a life of piety, service, chastity and charity following the cult of Edelina. To show her penitence and faith, she gave no real attention to the politics, intrigues and the wanton proclivities of the court. For the longest time, she hoped that she would be able to fully follow Edelina becoming one of the Edelantos taking a vow of chastity and living the life she was already conditioning herself for. King Rothgar had different plans in store for her and left her a reminder of it when she was engaged to Ryam Vikary for a time which was then broken off and later solidified with House Vayth. These changes forced her to at least acknowledge the politics and why the intrigues were necessary. The last was because everyone would end up killing each other if they did not indulge in their vices to pass the time away while venting away their frustrations and negativity. She was perfectly content at her needlework along with knitting as well as poetry and reading. Her topics often include the studies and reference material of the lives of saints and legends of the gods or whatever might tickle her interest. She can play the lute effortlessly and would play for those requesting it, but would rather hear others play if she had a choice. Most sunny afternoons are spent outdoors and especially upon a horse's back.
Modeling herself as a follower of Edelina, she believed in wisdom and understanding. Her deepest struggle was not to judge those that fell into trouble due to their proclivities knowing and understanding that no one was perfect, but it was a matter of 'wanting' to change as well as her own self-improvement that needed work. When she felt as if she could not carry on, she turned to her faith for guidance.
There might have also been a slight misconception on how people viewed her. Even though she did not like war or the thoughts behind it, she understood that it was necessary to ensure their own livelihood. However, she just like the goddess Edelina did not condone the savageness of war. She may appear meek, weak and emotional, but she understood when it was needed to be strong and to have a mask of serenity to help those non-believers to survive the trials and tribulations that were laid before them. It was probably why she was the most obedient of the Vellfyre brood and not as fiery tempered as most if not all were prone to be.
She was willing to listen to those that had hardships and to give guidance if it was needed and asked for, but she found it easier at times to deal with those less fortunate and susceptible to charity and kindness. This also did not mean that Elinor was the type to be taken advantage of or manipulated by anyone other than her family who she attempts to have a great tolerance for and if she had patience for them she found that she had more than enough for everyone else.
Regarding family, she adores her young sister, Lucia, but with the whole life changer they have been fighting over her friendship with Edric Sollis which apparently generated rumors that impugned upon her chaste reputation. It hurt her greatly that anyone doubted her beliefs and that she only felt rather sorry for Edric when most seemed to find him awkward, creepy, or insane. Of course, she also cared for Lenore and the pain generated from having her children taken away, but for all intents and purposes she just desired to remain neutral and allow them to pick up the pieces of the history that once had together. She loves her father and immortalized her dead mother, but struggled with her father coming out with the truth of having sired two meadows with a woman of low birth. Despite the hurt that she felt for not being told sooner, she dotes upon the two children and considers them her siblings even if they were bastards. Upon her brother, Kaleb's, incarceration, she denounced him and completely put him out of her mind having found his actions unforgivable. However, during a visit to see him with Kain in tow, her mind changed and she attempted to find it in her heart to forgive, for the woman is only human as well.
Elinor is close to her uncle, Keegan, respects her aunt Melantha and is oddly fond of Kalden.
Even though she was on the path to follow Edelina, it did not mean that she did not enjoy herself. Having had a proper education under Alianor's guidance, she knew how to dance, run a household, as well as conversing with people including the opposite sex.
During the plague, riots and her betrothal, it was a lot to deal with and despite praying every day for hours at a time along with several days of fasting, she seemed to have grown temporarily mad from lack of food causing her to act unlike her usual composed self. She hopes to somehow recompense for her actions to ensure that the King does not continue to remain disappointed with her and have resigned herself for a different future.
Timeline:
309: The birth of the second child of Kadreth and Helaina Vellfyre. Since their first child was a boy, the second being a girl is not a let down. She is given the milkname 'Rosebud' due to a birthmark on her left thigh.
310: 'Rosebud' survives her first year and is named Elinor.
311: Elinor's sister is born. She is given a new doll. Helaina is very sick.
312: Elinor's sister is named Lucia. Helaina Vellfyre's lingering illness comes to an end, she dies. Elinor doesn't understand at first, and cries for days. Prince James dies also. Elinor is starting to get the concept of this death thing.
313: Elinor is noted for a bad stutter. Magisters administer various treatments, nothing works.
314: Brother Kaleb is sent to squire in Copplestone. Einor doesn't mind so much, Kaleb was moody and didn't play with her and Lucia. Alianor finds a new Magister offering new treatment to Elinor's speech problem.
315: Elinor, Lucia and their cousins are sent to Summerhill in the wake of a spreading fever. Elinor's nurse instructs her to pray to the gods the fever will pass, awakening the little girl to religion. Elinor's father Kadreth is named Royal Constable.
317: Elinor's speech has improved. She only stutters when she gets upset.
319: Elinor becomes increasingly interested in religion, especially Edelina.
320: Kaleb comes home from Copplestone, still moody and isn't a knight. Cousin Ziamara is married to Artos Vayth.
322: Elinor develops a crush on a young squire. Her romantic dreams crumble when she discovers the boy is enamored with Ziamara.
325: Prince Jason and other cousins march off to war.
326: Lucia is mysteriously injured. Elinor spends her time at her sister's bedside and in prayer.
327: Elinor decides she wants to join the sisterhood and devote her life to Edelina. No one seems impressed with this idea.
328: News arrives that Rollant, Garrett, and Artos Vayth have been killed. Elinor takes to vigil and prayer. Later in the year, Elinor suffers injuries (including a deep cut to her knee and bruised ribs) attributed to taking a bad fall on the battlements... the wind must have been crazy that day.
329: Elinor's handmaiden (and former nurse) Morwyn dies of natural causes (complications of old age). Elinor mourns her.
330: The homecoming of highborn lords and knights. Seeing her cousin Gavin without his twin is like watching a man walk without a shadow. Valencia's new husband arrives. Elinor is saddened by Rosina's departure with Meridian envoys. Elinor is engaged to Ryam Vikary (she walks around with a somber expression, sighing more than usual).
331: Plague, riots, oh my! Also, the king eventually declared that the engagement to Ryam was broken off and that she was to marry Gawen Vayth. With Gawen's failing health, Rothgar commanded that Rhaegar wed Elinor instead of only as a proxy while the progress was in Delving.
Family Tree:
Please refer to the Vellfyre Family Tree
Retinue:
Handmaiden - Sola Vigan - The daughter of a slain soldier, from a poor family. Aged in her early teens, with light auburn hair. Sola came to Elinor's service after the death of her beloved handmaid Morwyn. Elinor practically took the girl off the streets as a 'mercy mission' and is trying to give her an education.
Lady-In-Waiting - OPEN?
Junifer - White palfrey
Jester - Gigantic dog
- Player Information -
Name:
Xochitl
Preferred contact method:
PM, GChat (whimsical musings [i think])