Name
: Whitney Vellfyre (nee Wolfe)
Titles, if any
: Lady, Princess (by courtesy... soon)
Age and Birthdate
: 46. 1M, 17, 284
Hometown/Area of Origin
: Blacktide, Kingsreach
Noble House and Affiliations
: Wolfe by birth, Vellfyre through marriage
Appearance: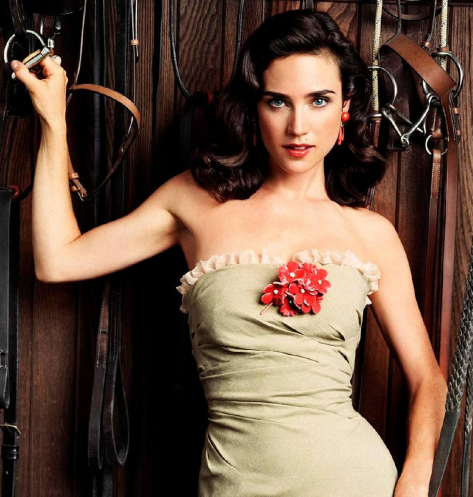 Height: 5'9"
Eyes: Blue
Hair: Very dark brown
PB:
Jennifer Connelly
Personality:
Whitney's is a very tempestuous nature. She may not be prone to the same temper or fits of anger her family by marriage is known for, but she feels very deeply and very passionately nonetheless. She feels as though she is a deeply loyal person, and prides herself on being a shoulder and a rock for any of her loved ones who need it. However, Whitney can also be a bit too emotional, expressing an overabundance of empathy which often can get in the way of more rational thought. Tears seem to be quite common with her, and she often will go into periods of depression. She says it is because she loves too much and hates seeing others in pain. She is not prized terribly for her intellect, but it's not because she's stupid. On the contrary... she's a very intelligent woman... when she chooses to be. The only problem is that she does allow her emotions to rule her actions more often than her thoughts.
She very much loves her family. For Bryce, she would do anything for, and she would die for any one of her children. That does not mean, however, she has always gotten along with them. She disapproves often of some of the things her husband does, and while she remained silent about it for many years, Whitney slowly began finding her voice and making her displeasure known. It has not always made for an easy marriage, but the two seem to have found a middle ground.
Timeline:
284: Whitney Wolfe is born to Wayne and Ruth Wolfe
285: Younger brother, Wayde, is born
286: Youngest Brother Wesley is born
291: Whitney is initially sent to foster with House Sollis.
294: Whitney becomes extremely ill and it is feared she will not recover. After she becomes well enough to travel, she is recalled home. Her education continues in Blacktide under the watchful eye of her mother.
300: Queen Kylianne dies. Bryce weds Whitney Wolfe.
301: Twins Garrett and Gavin are born to Bryce and Whitney. Charlotte Howe becomes queen.
302: Jason Vellfyre is born to Rothgar and Charlotte. Bryce becomes fourth in line. Sister Waverly dies of a wasting sickness.
304: Rosina Vellfyre is born
305: Kain Vellfyre is born
307: Leandra Vellfyre is born
312: After the death of James Vellfyre, Whitney and Bryce go to Vellesca for the funeral. While Bryce remains a while after to help while the king mourned, Whitney returned to Summerhall. When her husband came back, Jason was with him, and he would remain with Bryce for the duration of his knighthood training. Whitney would take it upon herself to play mother to him. This same year, Rosina is sent to Blacktide to foster with the Wolfes.
313: The twins are sent away to continue their training elsewhere.
315: Whitney becomes very ill. Like in her childhood, it hits her hard, and she is sick until mid-Winter.
318: Bryce breaks his leg because he was stupid whilst drinking. Whitney is quick to remind him that his misery and pain is his fault, but she at least does help care for him during his recovery.
319: Whitney's father dies. It is unknown what the exact cause is, but it is accepted that he passed away in his sleep.
325: Whitney is crushed when she has to watch her sons go to battle. But her sadness is coupled with anxiety and bitterness when Rosina's betrothal to a Merideen prince is announced not long after.
328: Whitney is devastated when she hears that her brother, Wayde, was killed in battle, but the devastation becomes unbearable when it is told to her that her son, Garrett, was slain in the same battle. She goes into deep mourning and secludes herself for most of the year.
329: Word arrives that Prince Jason has been captured. About a month later, it is learned that he was rescued but injured. Rosina is wed by proxy to the Merideen prince.
330: Her sons return home after five years at war. Though they are much changed, Whitney is very happy to see them.
Retinue:
Lady of the Chamber: Belinda Seyfert
Lady in Waiting: Lora Vaughn
Lady in Waiting: Emily Wolfe
-player information-
Name: Cee (temp)