Character Information -
Name:
Bryce Vellfyre
Titles, if any:
Prince Bryce of House Vellfyre
Age and Birthdate:
(55) 12M, fourth day, Y275
Hometown/Area of Origin:
Tal Volorro
Noble House, Affiliations:
Prince of House Vellfyre
Position at Court:
Lord of Laws
Appearance: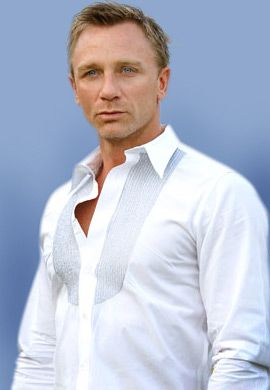 Height: 6'3"
Eyes: Blue
Hair: Blonde
Many scars
PB:
Daniel Craig
Personality:
Bryce's first love has always been and will always be Edolon. Raised with a certain pride in the kingdom his brother was fated to rule, he was primed and prepped from infancy to serve as his adviser and confidant, and in this, Bryce never shirked. He has a very strong sense of loyalty to crown and country, and never once thought that taking a blade for either was a sacrifice or a burden. It was an obligation AND a privilege. To this end, he had always been close to his older brother, taking his safety as a top priority not just because Rothgar was his brother but because he was going to be the future king. In return, the relationship between the two of them was very close, and Rothgar was always kind and respectful to him, especially as they got older and Bryce's talent in politics began to manifest.
He is a very thoughtful man, one who thinks before he acts, and then thinks again just to be sure. But he is a quick thinker and can come up with a plan in a pinch. He is also quite capable of seeing a situation from many perspectives, a talent that came due to his overly cautious demeanor which borders on mild paranoia. He really is the sort to believe that anything and everything could be a threat, and while he justifies this as simply being prepared for any scenario, there were a few years there where it became an obsession and he very nearly made himself sick over it. Especially at the turn of the century when most of his blond hair started to go gray prematurely.
He is extremely protective and fond of all of his family members... Even the ones that sometimes drive him to distraction or to the brink of insanity. Not a man with a quick temper, his kin have a special talent for testing his normally solid patience. Especially Keegan and Kadreth. Kadreth in particular whom he is usually seen in the company of. If one has ever or does bear the last name Vellfyre, they can count on Bryce's everlasting dedication to their comfort and their safety. In this, he is extremely dependable.
Despite his difficulty in trusting people outside of his family, he has always been charismatic - loving to put on a show. He was never the sort who demanded attention, but he never shied away when he got it either. He is one for the stories and can regale a crowd with a tale for hours. Of course, he is prone to adding a bit here or there, or exaggerating for effect, but it is always for the crowd's pleasure.
Bryce is a skilled knight, excelling in hand to hand combat. He is talented with a blade, but since his broken arm sometimes experiences a stiffness that hinders his speed. He is decent at archery, but he does not care for it and will scowl at you most intensely if you hand him a bow. In his tourney days, he preferred competing in the melee and the joust.
He is devoted to his wife and his children, more so than the rest of the family with the exception of maybe Jason. He was lucky in that he was able to come to love his wife, and through their union they had among the most wonderful children in all of Edolon (though he may be biased... and... yes, with the exception of maybe Kain). He was always sure to spend time with his children as they were growing up, and he felt a very deep sense of loss whenever he sent his boys away to continue their training under other lords and knights. He also spent a lot of time with his nephews and nieces, finding himself to be rather good with children. He supposed it had a lot to do with patience, but he also knew the danger of resentment and jealousy and also the danger of any of them feeling like they were unappreciated.
Timeline:
275: Born late in Winter to King Kaidan Vellfyre and Queen Alexandria Seyfert.
277: Given name in Spring, Bryce.
282: Kaidan Vellfyre (father's cousin) dies in battle. Older brother, Volus, dies of fever in 1M. Sent to serve as a page with Earl Howe of House Howe in the Winter.
285: King Kaleb dies. Father ascends the throne. Rothgar becomes Prince of Summerhall.
287: Bryce becomes very sick. Is recalled home. Remains sick for nearly half the year.
288: After recovering from his illness, he becomes a squire to Kyler Vellfyre. Sister, Princess Alianor, weds Septimus Sollis but mostly remains at court. Kylianne gives birth to a son.
289: Queen Alexandria dies of a Winter illness.
290: Is betrothed to Whitney Wolfe
294: Father, Kaidan Vellfyre, dies. Older brother, Rothgar, becomes king
295: Bryce is knighted. Begins sitting in on the council and is named Lord of Laws.
300: Queen Kylianne dies. Bryce weds Whitney Wolfe.
301: Twins Garrett and Gavin are born to Bryce and Whitney. Charlotte Howe becomes queen. Bryce is drunk a lot this year.
302: Jason Vellfyre is born to Rothgar and Charlotte. Bryce becomes fourth in line.
304: Rosina Vellfyre is born to Bryce and Whitney.
305: Kain Vellfyre is born to Bryce and Whitney
307: Leandra Vellfyre is born to Bryce and Whitney.
308: Charlotte becomes a force in the house of Vellfyre... Bryce is most displeased about this and begins to spend more time in Summerhall. He frequented Vellesca, but was away when he could be.
312: James Vellfyre dies suddenly. Bryce becomes third in line. Returns to Vellesca while his brother is in seclusion. Takes Jason under his wing after he is recalled and moved to Summerhall.
313: Sends the twins off to continue their knighthood training elsewhere.
315: Whitney becomes very ill. Won't recover until the following year.
318: Kyler Vellfyre dies - Bryce is very broken up about this. Drinks a lot... Well, more than usual. Bryce suffers a serious injury after falling down some stone steps after a rather rambunctious evening with his cousins. Breaks his leg. Still does not believe in the dangers of drinking. Another of Rothgar's children pops up.
324: Sits in council with his brother as he meets with delegations from Trimeris, Asserya, and Meridiez. War is declared.
325: Bryce watches with a heavy heart as his sons go to battle. He is ordered to remain behind. His daughter Rosina is betrothed to a Meridian prince.
327: More Rothgar spawn.
328: Receives word that his son, Garrett, was killed in battle.
329: Word arrives that Prince Jason has been captured. About a month later, it is learned that he was rescued but injured. Yet another of Rothgar's seed bears fruit in the form of a son. Rosina is married by proxy.
330: Though the war is not over, the Zakkish have stopped advancing and many of the boys are coming home, including Bryce's sons.
Retinue:
Page - open
Squire: Willem Clay - open
Squire: Torrance - open
Sworn Sword: Ser Sagramore
Guard - open
- Player Information -
Name:
The Oracle