HOUSE VERACORA
by sea and land
????-present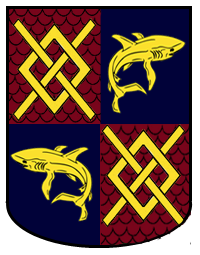 Motto: By Sea And Land
Sigil: quarterly murrey papellone and azure, two frets or, two sharks or



House Veracora was once House Esterley before changing their name to an Asseryan word during occupation in the hopes that their new overlords would think them pliant and assimilated. They are a very old Edolene family, having held Seastone in one name or the other for longer than most can definitively say. Their icons of sharks are certainly present in the stones of the ancient Castle Blackstones, a large and sturdy basalt fortress above the deep, natural harbor of Seastone. According to tradition, the Veracoras claim descent from a son of Merrik and an unnamed princess abducted from eastern islands, who was taken from her home while swimming in the sea by the god in the shape of a shark.



Less religiously minded scholars are inclined to think it's probably a metaphor for an Edolene man's acquisition of a Rheggish bride, but a thousand years of myth and legend are far more glamorous than dry and dusty history, and anyway, there has always been just enough odd mysticism and cult activity in Seastone to make people wonder if there's something to the mythology.



Chiefly among the oddities is the Korylos, a daughter of the Veracoras chosen to serve as the chief priestess of Seastone's strange and secluded temple to Merrik. There are many who say that the Korylos submits herself to near drownings to receive prophecy and guidance from the gods, but there are also rumors of strange concoctions and exotic sea fauna; it is a hotly contested position among the Veracora women, and is the source of many feuds and arguments throughout the family's long history.



However, the real schism in the family has concerned the legitimizing of an illegitimate son, favoring him and his offspring over a rebellious legitimate son with a troubled marriage. The details of what happened are little known to those outside the family, but what is certain is that Thibault Veracora greatly displeased his father and caused him to legitimize his older half-brother, Aemeric Salt, who then served as Lord of the Fleet to King Kaidan Vellfyre and supported his contributions to the Border Wars by sending Seastone soldiers to Elonia. Aemeric's loyalty and friendship was rewarded with a Vellfyre bride for his heir, William. The feud had all but died until Thibault's granddaughter was chosen by the Merrik priesthood to be the new Korylos over Shiera or Emeralda Veracora, either of whom had been expected to take the position.



The Veracoras eye one another again with resentment, but Seastone remains an orderly holding. The Northern Wars disrupted trade and caused shortages like in much of the rest of the kingdom, but the city and its vassals avoided uprisings by scaling back much of the luxury enjoyed by the nobles and temples and running three times as many arena games for the population. The new Lord Veracora has only recently returned from war, receiving control of Seastone from his mother, who ruled in his absence.