HOUSE VAUGHN
From Ashes, We Rise
A274-present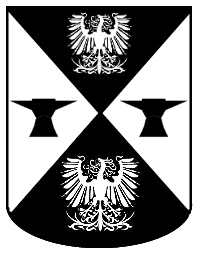 Sigil: per saltire alternating black and white, a large, white phoenix at the bottom with a slightly smaller one on top and two black anvils.
Motto: From Ashes, We Rise

The Vaughn family is of minor nobility, previously sworn to the vassal family of Dalwood of Shadowdale. Theirs was a meager holding, but a holding nonetheless. Nobles since the overturning of the Asseryan conquerors, while they had never been overly prominent, they are very proud of their lineage and blood. Risen by Kadreth as a boon for their service in the war, they went on to faithfully serve their liege in the manner which made them earn that boon in the first place: weaponry. Originally the Vaughns made their own weapons, but they would eventually hire blacksmiths and masters to take over that trade, overseeing rather than personally handling it. As a result, Vaughns are well known for their business savvy, able to sell and trade as well as any merchant.

Roland Vaughn was the first of them to aim a bit higher. With the last of the Dalwoods infirm, he vied heavily for the favor of the crown. He did not do this merely through gifts but through helping the sick Lord Dalwood manage his holdings and those sworn to him. While he knew better than to sing his own praises, he was sure to get the word in the wind so that it was well known at court just who was running Shadowdale while he could pretend to be doing it for more altruistic and not-at-all selfish reasons. His hard work would pay off when Dalwood died in the year 274. King Kaidan named him Lord of Shadowdale. This caused some tension with their rival family, the Flanerys. For a few years more, the two families would quietly quarrel, careful to keep their disputes out of the eye of the king, though it was well known that there was no love lost between them. It was not until 290 that Roland called a truce between them, proposing an alliance through marriage between his eldest son and Flanery's daughter that things calmed back down.

Roland's son, Callum, would go on to squire with Kyler Vellfyre. Two years behind Prince Bryce, he would become close with the prince. Not as ambitious as his father, his only goal was to become a knight and bring honor to the family name. He was knighted when he was eighteen and a year later would go to Westridge to take part in the battles there. Not long after his return, he married Elayna Flanery and began having many children, though only one of them would be a boy. His father died from a coughing attack at the breakfast table one day and Callum took his place as Lord of Shadowdale.