HOUSE DRAVEN
Lay restraint on thy tongue or thy tongue will lay it on thee.
A225-present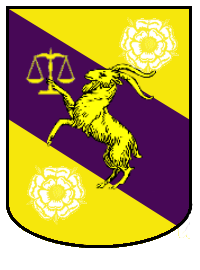 Sigil: bend, deep purple and gold, a stag holding scales centered with two white roses on opposite corners of the shield.
Motto: Lay restraint on thy tongue or thy tongue will lay it on thee.

The Dravens, like many families in the Reach, began as merchants. Their trade was in fabrics which meant they relied heavily on the sea. However, under the Asseryans, they struggled and unfortunately were fated for poverty. With no other option, they abandoned their trade and took to fishing, finding much more success. After all, silks and satins were a luxury, but eating was a necessity. Though it could not be said this is how they built their fortune, it certainly helped to keep them from begging on the streets. Despite their standing, the Dravens were a well respected family among the people of Covington. Often seen as proponents of peaceful resolutions, it surprised many when the Dravens stood up in support of the Wolfes and the Vellfyres when they took up arms against the Asseryans.

They would manage to convince many to join the cause and fight to push out their conquerors. Dravens themselves took part in the war and many gave their lives to see the Asseryans pushed out of their land in favor of who they felt truly deserved it. As a reward for their sacrifice and support, they were given the holding of Covington after the previous family was outed for going against the Wolfes during the war.

While it is not always popular to side with the Wolfe family, the Dravens have always openly supported them if for no other reason that the fact that Covington depends greatly on Blacktide.