HOUSE SAHERAZAI
what we have begun, we shall finish
A120-present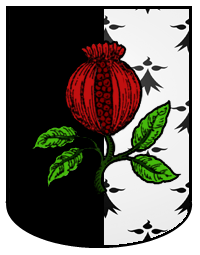 Motto: What We Have Begun, We Shall Finish
Sigil: per pale sable and ermine, a pomegranate.

House Saherazai has its start in the years before the Asseryan occupation, the result of a marriage between a dwindling Edolene family with a large fortune and a Meridian noble's second son, seeking wealth of his own. They replaced the extinct House Raldentes as lords of Tal Dragore shortly before Kadreth's War, which they readily joined once Southshores made its intention known. Their contribution to the rebellion was primarily monetary, setting a standard for their further diplomacy in later years. The family continues to maintain ties with Meridiez, even sometimes sending their daughters there to be educated, but there have been no further marriages outside the kingdom, instead turning their efforts to making alliances with other seaside Edolene cities.

While still heavily invested in trade, the Saherazai have over the past few decades become synonymous with finance. They are great lenders and investors, considered experts at predicting markets and finding new lines of credit. Their interest rates are not cheap, but their loans are widespread, even if people have managed to default on payments during the war years. Exceptions can be made in grave circumstance, but it's by no means the rule.

The castle in Tal Dragore has been steadily built onto over the years, and is commonly called the Golden Hold both for its storied treasury and the gold covered tips of its spires, although its proper name is Persepolia. The castle grounds are surrounded by gardens, many of which follow Old Asseryan design and are home to several varieties of pomegranate trees, of which the Saherazai have carefully cultivated to suit the Southshores environment. Once a year, Persepolia opens its doors to all priests and priestesses in Tal Dragore, and revelries take place from one sunrise to the next. As to what exactly goes on, it varies by the year. Speculation runs rampant.

Tal Dragore has long been known as a city largely dedicated to the goddess Valdis, and a massive black marble temple was erected in her honor near the beginning of Saherazai rule, who took her symbol of a pomegranate for their personal arms. In recent decades, the city has been the epicenter of the cult of Morte Regina, recently buffered by an influx of wealthy war widows and those inheriting coin and titles from dead fathers. Valdis' temple is widely regarded as being especially beautiful despite its intimidating construction, consisting of floors made entirely of quartz, expansive gardens, and an elaborate underground ossuary with walls of gilded mosaics. The city is home to wild festivals during the autumn and spring, at which point the Valdesian Wine (made with pomegranates grown for just this purpose) flows freely and many weddings and funerals take place at Valdis' temple - the latter being purposefully delayed until the "correct" season for burial.

The god Corvus is also given his due, and a smaller but much more exclusive temple stands in his honor near the gateway to the great network of catacombs running beneath the city. Tal Dragore widows wear white like anywhere else in Edolon, but are also noted for wearing heavy jewelry in addition to the mourning gowns and will often put aside the garments during the spring festival - at least temporarily.

Unsurprisingly, the city boasts a number of Magisters trained in inheritance laws, many of whom are some of the best regarded in the kingdom.

The current Lord Saherazai is an infant under a peaceable joint regency shared by his mother and elderly great-uncle. Although the loss of Lord Evariste in the Northern Wars was regrettable, it has not impacted much in Tal Dragore. For all intents and purposes, it is business as usual. Trade is rebounding with the drawing down of the war, and the loan collectors begin turning their eyes to their lists of whose debts are due.